Are you looking for Best Alternative Of Google AdSense and want to monetize your blog website?
In this post I'm going to share some Best Alternative Of Google AdSense.
Nowadays everyone wants to make money online, be it through YouTube or a blog or website.
You all know the importance of AdSense which is still the best pay per click (PPC) program. AdSense is the best in comparison to the other companies.
Google Adsense is the product of google which we can also call a kind of money accumulation account. Google Adsense offers you two ways to earn money. Through your YouTube channel and your blog or website by placing the advertisement.
But to get approved For Google Adsense it has been a difficult task these days. If seen, there is not much difficulty but it becomes a bit difficult for beginners.
But it is recommended that they do not worry because we have brought this article to offer you the Best Alternative Of Google AdSense in 2020.
There is no doubt that Google Adsense is the best to monetize your blog or website, but you can also use one of these alternatives.
List of Best Alternative of Google Adsense
Revenue Hits
Media.net
Infolinks
BuySellAds
Adsterra
Propeller Ads
Click Bank
Adbuff
Clicksor
PopAds
1. Revenue Hits
Revenue Hits is a recently introduced ad network and it is the Best Alternative Of Google AdSense. It is not better than Adsense, but it is not less by any means.
If you only have 100 views per day, you can earn well with Revenue Hits. It also has all kinds of banners and mobile ads.
CPM, as well as CPC rates, are also high. Other than that, you have an opportunity to refer people to your link.
Income results indicate that you can earn up to $ 100 per referral. It has all kinds of referral banners too. After personally reviewing it, I recommend it to this ads network.
2. Media.net
Media.net offers publishers various advertising styles: display advertising, search advertising, and mobile advertising. They have access to content-based advertisers seeking contextual targeting.
They were the first to introduce server-to-server header offerings, allowing publishers to maximize revenue through header offers without risking high page latency.
They are direct competitors to AdSense. But, keep in mind that they are known to suspend accounts and do not explain why. So if you use them then read all the rules and be careful to follow them.
3. Infolinks
Infolinks also refers to the pay-per-click network that has text-based ads along with image and video ads.
In the past, Infolinks offered only text-based ads, but recently they have also started to facilitate bloggers by providing banners and pop-up ads.
It is a relatively Best Alternative Of Google AdSense. There is no special Infolinks requirement as you can easily get the Infolinks account and start earning.
If you cannot get the AdSense account, it is recommended to sign up for Infolinks as soon as possible.
4. BuySellAds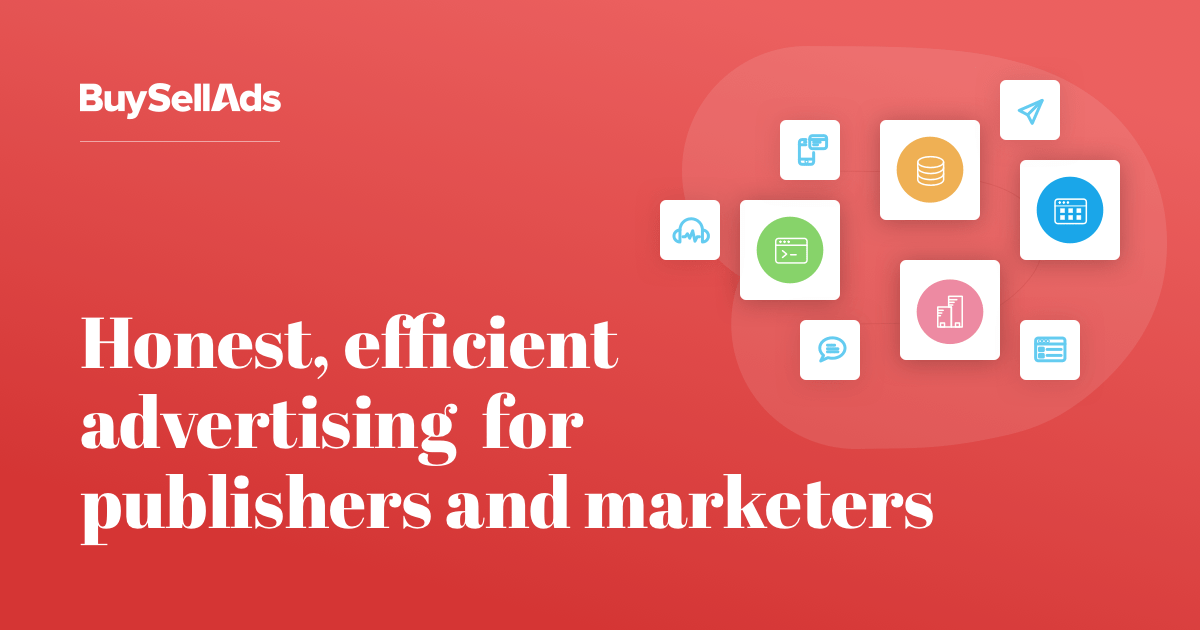 Image From: BuySellAds
BuySellAds, the online direct advertising network company, is considered one of the Best Alternative Of Google AdSense. It was formed in 2008 by Todd Garland, who is the Executive Director of BSA.
Over time, it has become the Best Alternative Of Google AdSense these days. BSA offers many opportunities in the form of RSS feed ads, images, and text as well to monetize good amounts for your quality content.
There's not a big difference between Google Adsense and BSA, as both offer pay-per-click revenue, but BSA ads sell for a month.
BuySellAds requirements are not very strict like Google Adsense. BSA needs a professionally designed website with fresh, quality content to approve the site.
While using BSA services, you will be paid as you receive the print. You will wonder if your website is good and has unique quality based content, you can earn more than Adsense.
So, never be disappointed if you have not been granted a Google Adsense account because BSA will warmly welcome you if you have good material on your website.
5. Adsterra
AdsTerra is a relatively new ad network that was founded in 2013. In a short time, it has grown into a large and active ad network with publishers and advertisers around the world.
It has built a good reputation for offering secure publisher ads and access to quality advertiser sites.
They have a wide variety of ad formats like Pop-under, Push up Ads, Banner Ads, and more (full list included in this article).
They also offer mobile ads and have many different formats and methods for displaying ads on all mobile devices.
Also, AdsTerra has some of the highest CPM rates for publishers, and with a 100% fill rate, you can be sure that your ads will appear 100% of the time.
Publishers who want to monetize their sites will be happy to know that AdsTerra has a timely and reliable payment schedule.
6. Propeller Ads
Propeller Ads is the ad network offering Pop Ads and recently Banner ads are starting. On this network we have popup ads, native banner ads, push notifications, one click ads, widgets, SmartLink.
In propeller ads, you can only get clean ads, and there is no ad blocking effect on those ads.
For Propeller Ads, the minimum required traffic is Zero, yes. If you start your site from today and there is no traffic to your site, you can also get approval from Propeller right now.
In propeller ads, you can get paid by many different methods like PayPal, electronic payments, web money, Payoneer, Skrill, bank transfer. You can get a weekly payment on Thursday.
Propeller's minimum ad withdrawal is only $ 5. No manual request is required, there is an autopilot method that, when your account has $ 5, automatically sends your payment to your bank from your chosen method.
Getting approved by Adsense is more complicated than getting approved by PropellerAds. Also, you can easily monetize a new website on PropellerAds.
You can earn more Adsense money with less website traffic. However, you need a large amount of traffic to earn a significant amount of money from PropellerAds.
You can almost monetize any type of website with Propeller Ads, including copyrighted content. Adsense is strict about the content of the website. Furthermore, Adsense may even ban your account if it violates its terms and conditions.
7. Click Bank
Clickbank is one of the highest paid and highest paid affiliate networks in the world right now. Admittedly, they have a lot of crap and scam products, but still, there are some good products too.
ClickBank is also an affiliate marketing program. This means that you can register as an affiliate and promote any product or service for a commission.
The way the entire process works is for a provider to upload a product, service, online course to ClickBank.
ClickBank lists this product in your market. Every time they make a sale, ClickBank takes a percentage.
For example, if you have an audience in the dating niche … you can search the Clickbank Marketplace and promote a dating offer to earn a percentage of sales.
8. Adbuffs
Adbuffs is an amazing ad network and can be a Best Alternative Of Google AdSense option for your blog website and it pays really well.
AdBuffs is an advertising network for mobile and web channels with many unique features, capabilities, expertise and vast experience in revenue maximization for both publisher and advertiser.
One thing I love most about Adbuffs is that they are using the latest best technology for their ad servers which in turn is increasing the reach of advertisers. Due to the best servers, they are also providing maximum benefit to the publishers.
9. Clicksor
Clicksor is the Best Alternative Of Google AdSense. Clicksor is the most popular for advertisers to advertise through multiple formats.
Clicksor is the best ad network for cpm and cpc rates and its variety of ad formats. You can set the minimum price for cpv, cpc, cpm and cpi ads. This helps increase profits.
If someone visits your site then they need to click on the site for a popup to appear, it also appears below and additionally click on layer ads.
10. PopAds
PopAds is a very popular pop advertising network and many popular websites that use popads to make money on blogs and popunder advertising websites.
Popads provide the highest ecpm rates in the industry. It also provides various payment options with daily payments without delay.
It is the fastest paid advertising network. Pay publishers every day and serve real traffic to advertisers. And the editors that provide Bot traffic don't request popads, you will be banned.
Only legitimate traffic is approved by the popads. But sometimes visitors get irritated when you put too many pop ads.
Conclusion
Thank you very much for visiting our website, I hope you all have liked this Best Alternative Of Google AdSense.
If you found this article interesting and helpful, share this article with your friends who are looking for Best Alternative Of Google AdSense.
We have provided some more interesting articles which are related to blogging so you can have a look at those articles.